Simulates a mouse click in the place indicated by GUI element. Choose the type of click from the dropdown (click, alternative click, right click, double click).
Fill in the custom browser window name. Drop the control on the activity. Text to match is an optional parameter.
Sometimes ordinary click does not work, then try to use Alternative Click. As Alternative Click does not wait until the action takes place, consider using activity Wait afterwards if needed.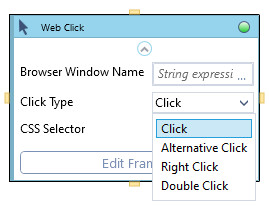 | Parameter Name | Parameter Type | In/Out | Description |
| --- | --- | --- | --- |
| Alternative Scenario If Failed | Boolean | Input | checkbox; default is "on" |
| Browser window name | String | Input | custom internal name for particular browser window, in order to use in Wizlink |
| Click Type | Dropdown | Input | select the appropriate option from the dropdown list |
| CSS Selector | String | Input | CSS selector |
| Display Name | Literal | Input | you can change the name of activity for greater clarity of the scenario |
| Exclude from Transaction Check | Boolean | Input | checkbox; default is "off" |
| Retry timeout [s] | Double | Input | waiting time until the activity will execute: 1. any negative value means try once, if you fail – set Result to False and finish activity; 2. "0" means try until you get the effect; 3. any positive value is time in seconds in which the activity will persist trying until successful or the time elapses, if failed – set Result to False and finish activity |
| Text to Match | String | Input | checks whether inspected element contains given text (optional parameter) |
| Result | Boolean | Output | returns the Boolean value: it will return True if no error is in activity, otherwise it will return False |
| Result Code | Int32 | Output | Result Code will return 0 if there is no error in activity, otherwise in most cases it will return 1, the extended result code will show only in several chosen activities |